Dogpatch USA Theme Park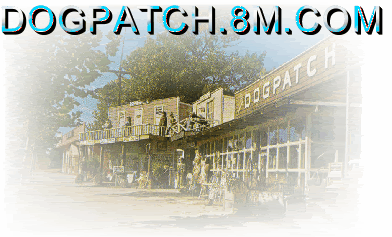 Dogpatch USA is a defunct theme park located on State Highway 7 between the cities of Harrison and Jasper in the state of Arkansas, USA, an area known today as Marble Falls. It was opened to the public in 1968 and was based on the popular comic strip Li'l Abner, which was created by cartoonist Al Capp and set in a fictional village called "Dogpatch".
Dogpatch USA was a commercial success in its early years, and investors, buoyed with optimism about the park's future, decided to pursue extensive and heavily financed expansion in the form of a sister park, "Marble Falls", designed as a ski resort and convention center. But in the following years a combination of characters and unforeseen events transformed the high hopes of investors into a financial roller coaster ride which eventually ended in the park's demise.
Ownership of the park changed hands many times throughout its history, and it was finally closed in 1993. Since that time much of the property of the twin parks has been neglected and frequently vandalized, and portions of the acreage are either entangled in legal issues, in a state of redevelopment, or for sale once again.

The images here have been collected from the Web & from my personal pictures